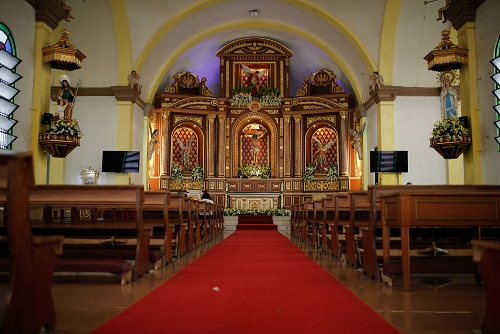 Catholic churches in the Philippines are usually overflowing with parishioners on Sundays.
However, this is not the case for the National Shrine of St. Michael and the Archangels in Manila, despite being the only shrine in the whole world dedicated to seven archangels.
St. Michael is located inside the Malacañang Complex. It is almost next door to the most important address in the country, Malacañan Palace. A few blocks away is another national shrine: one to St. Jude Thaddeus, the patron saint of desperate cases. 
The shrine's story
Formerly known as the St. Michael Church, the 100-year-old Baroque structure was declared a national shrine by the Catholic Bishops' Conference of the Philippines (CBCP) in 1985. The CBCP made the decision via de jure, citing the church's rich history.
For instance, Manila's first Filipino archbishop Gabriel M. Reyes, who served from 1949 to 1952, was first buried in the National Shrine of St. Michael and the Archangels before his remains were transferred to Manila Cathedral, Santos shared.
The church belongs to the San Miguel district where old rich families used to live. But most of these families—who were the benefactors of the church—left the area during Marcos' time, Santos said.
The national shrine is also home to a 12-foot bronze statue by renowned Filipino sculptor Florante "Boy" Caedo of St. Michael in his traditional pose: triumphantly looming over a dragon (Satan).
Moreover, the national shrine holds the sacrament of confirmation twice a week (on Thursdays and Sundays), the only church in the country to do so.
Confirmation is normally done by bishop, but the the parish priests of the National Shrine of St. Michael and the Archangels were given the authority to confirm Catholics as well, said Santos.
Source — BM, GMA News -